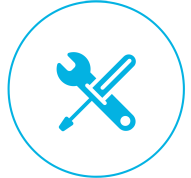 Managed Services

Let us manage your DataKnowl services so you can manage your business.

With Managed Services, a team of DataKnowl experts or qualified partners will take care of managing DataKnowl services on your behalf.

Thanks to managed services, daily operations will be managed by DataKnowl experts. You do not have to dedicate internal resources or gain new skills. Delegate your service management to DataKnowl, and optimize your operating costs.

Contact us for more information!

DataKnowl Services are provided by the DataKnowl Services Team and / or DataKnowl Partners, based on customer needs and preferences.