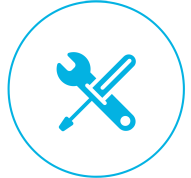 Professional Services

The DataKnowl Professional Services team is intended as an extension of your business. A resource for you, to utilize according to your needs, to help you achieve success.

The Professional Services team is available to:

- Design a solution based on your business goals and success criteria.

- Setup and Configure the best solution for your specific use-case.

- Integrating additional business applications and platforms you already use.

- Validate that the solution meets the business requirements and make the necessary adjustments.

- Provide training for your staff on the configuration and operation of the solution.

- Deploy the solution throughout your organization, assisting you on all operational aspects.

- Continuously tune the solution to deliver optimal results over time.

You can also delegate the daily operational management of services to DataKnowl experts, thanks to DataKnowl Managed Services.

Some of the professional services offered:

- IVR Development (Interactive Voice Response)

- Contact Center Development

- Toll-Free Number Setup and Configuration

- Chatbot Development

- CRM Setup

- Amazon Alexa Skill Development

- Google Assistant Actions Development

- WhatsApp Business

- Facebook Messenger

- Support Ticket System Setup

Contact us for more information and how to get started!